Literature
Looking for the Natural Way: A Review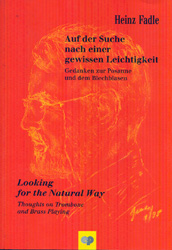 Fadle, Heinz. Looking for the Natural Way. Tübingen, Germany: Edition Piccolo, 1996, 137 pages.
This book contains helpful hints on a wide variety of subjects including tonguing, intonation, resonance, vibrato and breathing, to name just a few. Scattered within each short chapter are reminisces and anecdotes from professor Fadle's long career as a teacher and performer. These vignettes include descriptions of Fadle's encounters with famous pedagogues (such as William Cramer and Arnold Jacobs), soloists (including Christian Lindberg and Alain Trudel), and other musical luminaries. Fadle is not just name dropping, however; his discussions are humble, relevant and utterly delightful. The text is written in English and German in side-by-side column format and a few black and white photographs are interspersed throughout.
There is a helpful bibliography, a list of recommended further literature and a detailed index included following the text of the book. The index is particularly useful because the organization of the chapters is rather "stream of consciousness." For this reason the book reads like a periodical, with short articles covering many different subjects.
While somewhat informal in its organization, this book is a good reference for some new techniques and thoughts. A search in the index for the word "confidence,", for example, leads the reader to the section on memorization and the following quote:
"To go in for playing from memory needs a confidence in one's own ability, which only grows from repeatedly living through the situation. That's why from the very start the student must frequently be put into this situation - or should put himself into it".
This quote demonstrates the occasionally awkward translation from German but also shows a unique perspective. The value of this perspective far outweighs the cumbersome verbiage. This is a valuable and entertaining book which should be added to all serious brass musicians' "required reading" list.