Literature
Sonata for Trombone by Derek Bourgeois: A Review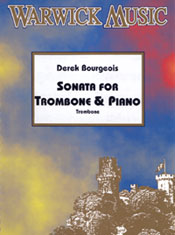 Sonata for Trombone and Piano. Derek Bourgeois. Warwick Music, Warwick, England, 2000.
Derek Bourgeois is no stranger to trombonists, having composed a popular Concerto among other works for the instrument. His penchant for long, lyrical melodies and virtuosic, twisty lines is again evident in his latest offering, a four movement Sonata. This is an epic work, spanning three octaves and lasting some twenty minutes with many changes in mood and style.
The first movement features a heroic fanfare-like opening and a second theme reminiscent of the trio section of Elgar's Pomp and Circumstance. The second movement is a 5/8 scherzo requiring nimble tonguing and solid rhythm. The third movement is marked eighth note = 88 and is built around third patterns. This movement may be the most taxing of the bunch due to its length and tessitura. The finale is romp through a playful 6/8 theme with occasional glissandi between eighth notes juxtaposed with yet another lovely lyrical duple melody.
Those looking for a technical challenge will not be disappointed by Bourgeois' Sonata; there are also plenty of opportunities for expressive melodic playing throughout. Bourgeois is a skilled composer who knows how to write for the trombone and this piece is a major new work sure to become popular. Whether it achieves the same status as his Concerto may depend on soloists' concerns over programming such a long and demanding piece. Perhaps, for this reason alone, three movements would have been sufficient.