Recordings
DidgeriBone: A Review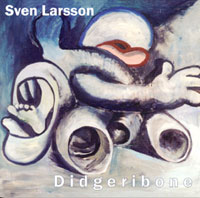 DIDGERIBONE. Sven Larsson, bass trombone and didgeridoo. Four Leaf Clover Records FLCCD176. Recorded November 17, 2000, released 2001. Available from Four Leaf Clover Records. Compact disc. Sven Larsson: One Talking, Three Walking, Bukka, Quadrobone, Boneologue, City Jungle. Georg Bassman/arr. Sven Larsson: I'm Getting Sentimental Over You. Duke Ellington/arr. Sven Larsson: Mood Indigo. Further information available on Sven Larsson's website.
The didgeridoo has become nearly ubiquitous in both Western musical and pop culture. Visit a music store or a "new age" shop from Bar Harbor, Maine to San Francisco, California - from Paris to Tokyo - and you will likely find a barrel filled with this simple and unique instrument. Once the sole province of Aboriginal Australians - who, over thousands of years of their history, and with the help of termites, hollowed out branches and trunks of various gumwood trees to create this peculiar instrument - the didgeridoo has become mainstream. Like the Irish whistle before it, didgeridoos fly off store shelves but often end up collecting dust when buyers realize that there is work to be done.
Stewart Dempster, for many years professor of trombone at the University of Washington and a pioneer, along with Benny Sluchin and Vinko Globokar, of modern avant-garde trombone technique, was one of the first to bring the didgeridoo to the attention of today's trombonists. This was a natural thing which was surprising only in how long it took to happen. The didgeridoo mouthpiece is made of layers of wax melted into a shape and size rather closely approximating a trombone mouthpiece. Producing a sound on a didgeridoo is a relatively simple thing: one buzzes into the mouthpiece end to create a "drone;" manipulation of the tongue and lips as well as singing, talking and barking (to imitate various animal sounds) while circular breathing creates the characteristic didgeridoo sound. Playing the instrument in a way which can transcend its pop status and actually tap into a bit of the spiritual and mystical world from which the didgeridoo originally came is quite another.
Swedish bass trombonist Sven Larsson has released a 40 minute CD of bass trombone and didgeridoo improvisations with the seemingly inevitable title of "Didgeribone." Larsson teaches at several music schools in Sweden and has a long resume of performances in classical ensembles (Swedish Radio Symphony) and jazz groups (George Russell, Thad Jones, Lars Gullin, Arne Domnerus, Lars Samuelson, Monica Zetterlund, and others). With his companion, baritone saxophonist Cecilia Wennerström, he has collaborated on many projects, mostly jazz, and, in particular avant garde, free improvisations. Their joint website details their individual and shared musical activities.
Sven Larsson is an accomplished player, and while even a relatively short CD of free improvisation with overdubbed bass trombone and didgeridoo may wear thin on some listeners, there is an undeniable appeal to his efforts. Apart from the jazz standards by Ellington and Bassman, all of the tracks have the feel of spontaneously played out creations. It's as if Larsson walked into the studio, turned on a microphone and began to play what was on his mind. Satisfied with that, he would then lay down another track on top of it, sometimes with a didgeridoo serving as a bass drone. The opening track, "One Talking" is a homage to Stewart Dempster and features Larsson making all manner of sounds with and into his bass trombone in a conversational manner (the liner notes indicate, "I argued, lied, boasted and tried to plead. She didn't want to anyway."). "Quadrobone" is a far cry from Dick Hyman's charming piece of the same title (written for and recorded by Urbie Green), being a clever improvisation for four overdubbed bass trombones in an exploration with various mutes.
Despite Larsson's considerable technique, one is left with questions. His multiphonic playing on "Mood Indigo" is a good enough idea, but his execution lacks the refinement of, say, Bill Watrous (who can play Barber's "Adagio for Strings" on trombone using multi-phonics and make the listener imagine he is listening to a large ensemble). One suspects, too, that the coarseness in Larsson's sound at times, particularly in the upper register (most noticeable on "I'm Getting Sentimental Over You"), is a result of a lifetime of embouchure manipulation. Everything has a cost.
The sparse liner notes (the booklet is four pages including the cover) tell listeners Larsson's didgeridoo teacher was "Mr. Williams." It would be informative to know if this is in fact Neville Williams, the well known aboriginal didgeridoo player and maker. Regardless, Larsson learned his lessons well, and "Didgeribone" offers up a full range of didgeridoo technique. The final track, "City Jungle" is for didgeridoos alone; while one might wish for the opening drone to "settle" a bit before embarking on a creative adventure, the listener is treated to an impressive display of didgeridoo playing including Larsson's superb circular breathing technique.
For the pluralistic world musician, there is room in ones collection for a CD like this. Those seeking "pure" didgeridoo playing will be well to look for recordings from the Austrailian bush such as those by Peter Manaberu ("Bunggridj-bunggridj: Wangga Songs by Alan Maralung," Smithsonian Folkways CD SF 40430) or even more contemporary efforts by David Hudson ("Rainbow Serpent," Celestial Harmonies 13096-2) or Alastair Black ("Earth Tones," Yidaki-Doo Pty. Ltd.); those wanting expertly played and creative jazz or avant garde bass trombone will want to seek out discs by Bill Reichenbach and David Taylor. Sven Larsson finds his niche with his own style. His is one of many tributaries in the expansive delta of modern trombone technique. As Larsson's biography quaintly concludes, "Today he works in many groups of different characters." With the overdubbing on "Didgeribone," Larsson has proven himself to be a "group of different character" - a group with a distinctive voice.