Recordings
Get 2 It: A Review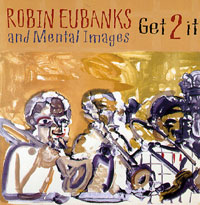 Robin Eubanks and Mental Images: Get 2 It. Collective personnel: Robin Eubanks - trombone, electric trombone, synthesizer, vocal; Duane Eubanks - trumpet; George Colligan - piano, organ, synthesizer; Michael Cain - piano; Kevin Eubanks - acoustic guitar; Dave Holland, Lonnie Plaxico - bass; Gene Jackson, Billy Kilson - drums; Mino Cinelu - percussion; Maya Azucena - vocal.
Ordering information and sound clips available at the Robin Eubanks web site.
Applying electronic effects to enhance and alter the natural sound of his trombone, Robin Eubanks has discovered the optimal mix of acoustics and technology. Eubanks' most recent CD release, "Get 2 It," is unquestionably the best recorded example to date of the acoustic-electronic fusion that he has so successfully pioneered.
Eubanks starts the appropriately titled opening track, "Metamorphos" (the first of nine original compositions) with the natural horn, employing his distinctive big tone and mid-to-low register tessitura. As drummer Gene Jackson and percussionist Mino Cinelu weave a fabric of rhythm and sound, he suddenly shifts from acoustic to electric. The change is striking but not jarring, because while the medium may have been altered, the message is the same. Trumpeter (and younger brother) Duane Eubanks shows himself here and throughout the CD to be a mature and thoughtful improvisor, not hell-bent on playing notes for their own sake, apparently a family trait.
The title track opens with a gospel tinge, in which voice and electric trombone forge an eerie, compelling blend. Eubanks' solo echoes the lyric, telling a story of personal battles fought and (eventually) won. Underscoring his broad artistic range, "Essie" is a sensitive duet with brother Kevin Eubanks on acoustic guitar, with a solo trombone cadenza at its center.
"REM State," a bold, unaccompanied solo for electric trombone, segues into "Blues for Jimi," a tour de force blues improvisation that pays homage to the visionary, Coltrane-influenced rock guitarist. After George Colligan's organ solo, Eubanks returns with electronically created, plunger-like phrases that seem to invoke Al Grey, a one-time mentor who, like Hendrix, was a master of the blues.
Commissioned by J. J. Johnson for his 1997 CD, The Brass Orchestra, "Cross Currents" is a demanding piece that requires its soloists, Robin and Duane Eubanks and pianist Michael Cain, to navigate through a churning current of shifting rhythms and changing moods. On "RNB - First Take," a duet with drummer Billy Kilson, the use of loops - no overdubs or multitracking - allows Eubanks to play acoustic and electric trombone "simultaneously," just as he does in his live performances. Odd-meter tunes have become almost de rigueur on jazz recordings these days. The sextet track, "Sabenna," opens with Duane Eubanks blowing over a 7/4 vamp that shifts into a 15-beat cycle for the head and brother Robin's deft solo.
Eubanks frames Wayne Shorter's lovely ballad, "House of Jade," with an introduction and coda built around electronic echo effects, but plays acoustically on the head and in his artfully paced solo. "Reunion" is a three-way improvisation among Robin and Kevin Eubanks and Mino Cinelu, in which the brothers develop short, choppy motifs into fully realized musical statements. Finally, "Indo," which like all of Eubanks' compositions takes unusual and intriguing rhythmic and metric turns, sets a groove that is at the same time lyrical and funky.
In jazz, presentation is important. For jazz trombonists it is imperative. Robin Eubanks should be applauded for having discovered an original and personal way of presenting his instrument and his artistic vision, and doing it with the highest degree of integrity and musicianship.