Recordings
All Day Meeting and Dinner on the Ground: A Review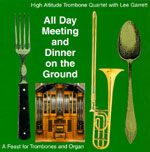 All Day Meeting and Dinner on the Ground, A Feast for Trombones and Organ featuring the High Altitude Trombone Quartet with Lee Garrett. Personnel: Joe Martin,William Runyan, William Holst, Jeremy Van Hoy, Craig Mulcahy, Trombones. Lee Garrett, Joseph Galema, Carol Wilson, Organ. John Lueck, Baritone. Sonata for Four Trombones and Continuo, Daniel Speer. Fili mi, Absolom, Heinrich Schutz. Sonata pian'e forte, Giovanni Gabrieli. Attendite, populue meus, legem meam, Heinrich Schutz. Wachet Auf, ruft uns die Stimme; Nun komm, der Heiden Heiland; Wir glauben all an' einen Gott, three chorales by Johann Sebastian Bach. Selections fromMass in C Minor; "Qui Tollis", "Jesu Christe", and "Cum Sancto Spiritu", Wolfgang Amadeus Mozart. Inveni David and Ecce Sarderos Magnus, Anrton Bruckner. Processional: Let There Be Light, Charles Ives. All Day Meeting and Dinner on the Ground, Robert Spillman. Two for the Road, Henry Mancini. Arrangements by Jeremy Van Hoy, Bill Holst, Lee Garrett and Tony Klatka.
The High Altitude Trombone Quartet has issued a compact disc filled with music for four trombones and organ (and sometimes voice). There is much of the music you would expect to find on such a recording plus a few welcome surprises such as the title piece All Day Meeting and Dinner on the Ground, by Robert Spillman.
The sonics are clean and well balanced throughout and the performances are sturdy and professional. The HATQ is comprised of professional musicians from around the state of Colorado, and is a subgroup of a larger ensemble called the High Altitude Trombones. On this recording they are joined by organist-arranger Lee Garrett and by John Lueck, baritone.
The music is most enjoyable. The Speer, Schutz, and Gabrieli are wonderful readings of standard repertoire. The Mozart, Bruckner, and Ives selections are vocal works in which trombones figure prominently, the vocal parts taken by the trombones or the organ.
All Day Meeting and Dinner on the Ground, by Robert Spillman, was commissioned by the HATQ and is premiered in this recording. Based on Appalachian hymns and fiddle tunes, Spillman has captured the flavor of a country revival meeting followed by a barn dance. This is an extended work (13:00 minutes) for trombone quartet and organ that hopefully will be entering the standard repertoire.
The recording closes with an arrangement of a Mancini tune, "Two for the Road". While the playing on this piece is up to the same standard as the other selections, it seems a weak choice stylistically and musically for this CD. Since the recording runs to nearly seventy-four minutes, this arrangement could have easily been omitted, leaving a more cohesive package.
Nonetheless, this is altogether a fine recording and an excellent representation of the ancient and venerable combination of trombones and organ. If you are still reading this review, this CD belongs in your collection!
Your browser does not support the audio element.
Sonata for Four Trombones and Continuo
Your browser does not support the audio element.
Sonata Pian'e Forte
Your browser does not support the audio element.
Inveni David