OTJ Authors
Linda Leonard
Linda Yeo Leonard was born in New York City, grew up in Lexington, Massachusetts, went to college at Wheaton College, Wheaton, IL (BM Performance, 2001, cum laude), and now resides in Wheaton with her husband and 2 children. She is currently the bass trombonist of the Northbrook Symphony (2004-present), and was a member of the Prairie Brass Band (2002-2008). She was a member of the board of directors for the North American Brass Band Association, where she won first place in the Low Brass, Slow Melody competition in 2003 with the Ewazen Bass Trombone concerto. This is a piece she had performed in college with the Wheaton College symphony orchestra, having won the concerto competition (winds and percussion division) in 2000.
Linda enjoys teaching privately in the greater Wheaton area, and also gives low brass master classes in area schools. She is currently a member of the Event Research and Planning committee with the Wheaton College Artist Series.
OTJ Articles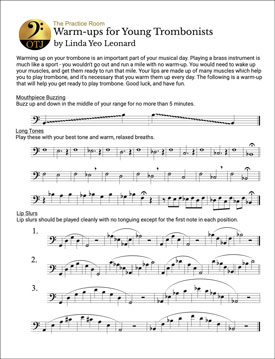 December 08, 2020

Your lips are made up of many muscles which help you to play trombone, and it's necessary that you warm them up every day. This is a warm-up that will help you get ready to play the trombone.